More (too much?) on Connie Francis
http://www.mfwright.com/connie_francis/cfmore.html
---
---
Last update: 3/3/09
---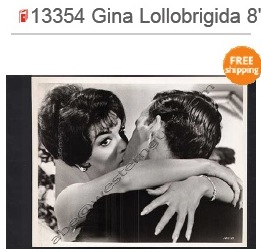 Mistaken Identity of Connie on eBay
Connie mistaken for her lookalike in Italy on a ebay photo (click image for fullsize and more details).

This is not first time of mistaken identity.

Photo is from Looking For Love Connie kissing Jim Hutton where her character, Libby Caruso, is listening for "bells" which means she found her true love (there were no bells, those came later when she kissed Joby Baker).
---
Question of the Day: asked on the Connie_Francis yahoogroups
If someone were to say to you, "I've never heard Connie's voice. Play me her best song!" What would you play them?
You can only pick one.
Bill answers:
OK - my choice is gonna be "Wives and Lovers" - I don't know why except Connie's voice seems at its purring peak - it has its soft mellow moments yet she hits the high notes and has all that wonderful vibrato too.

Brenda answers:
I think I would have to say "Impossible Dream." Her voice is absolutely flawless on this song. She ends with such power and a couple of long notes. She breaths every word with such emotion. I love, love this song.

Frank answers:
My own choice for the one Connie track I might play someone would be "Happy Days And Lonely Nights." Every time I hear that I'm just amazed at how flawless Connie's vocal is. I think of it as kind of a lost treasure.

Johnny answers:
Jonny Der Schweiger, only because she says my name. Zingara is my #1.

Sue answers: That's a tough one......I'd go with "The Impossible Dream."

Mike answers:
I would pick A LIFETIME OF LOVE from the Les Reed LP. WOW!!!!!!!!!!!!!!!!!!!!!!!!!!!!!!

Christian answers:
I would choose "Al Di La."

Alie answers:
I love so many songs but My Happiness I love the most. It was the first song I ever heard from Connie.

Steve answers:
To display Connie's *voice* I'd have to play for them, Senza Mamma E Nnammurata. It's all there!

David answers:
Actually, the one that 'wows' me the most, vocally, is the solo piano version. But, her performance on both was outstanding.

Ellen answers:
Would have to be Ave Maria.

Gerrit answers:
My pick would be "Love is a many splendoured thing" from the 1961 album "Connie Francis sings NEVER ON SUNDAY" (a.k.a. in Germany as "Connie Francis sings Film Hits").

Christian answers:
Hmmmm, it depends WHO aks me to play a Connie song : It happened in the past, and when German friends asked me "Francis ? Never heard. What does she sing?" I play them "Die Liebe ist ein seltsames Spiel" because I know in front that the reaction always is "Ahhh, THAT's Connie Francis? I know the song, but didn't know she was called Connie Francis."

Michael answers:
Very hard to pick just one, but I'd go for "My Dream."

Will answers:
WHEN THE BOY IN YOUR ARMS (IS THE BOY IN YOUR HEART) which is Connie's soft voice and high notes.

David answers: I think for me it would be "I Found Myself a Guy" -- a complete emotional play in 3 minutes.

Ellen answers:
Guess you could say mine is Santa Lucia.

Joe answers:
hmmmmm very hard question to answer but I'll try...... I'd have to pick "If I Never Sing Another Song"...................

Jean answers:
It would have to be "Time Alone Will Tell"!!!

Cat answers:
Ah hard for me..I guess Zingara

Peter answers:
Probably Al Di La.

Fran answers:
My choice is Mama...

Richard answers:
For me this is easy. It would have to be O MEIN PAPA. When I hear her hit the ending notes to this song I still get weak in the knees.

Mike answers:
The one I say is "Strangers In The Night" from her Movie Greats of the 1960s. That song, first on the LP (found accidently in a used record store while looking for something else) made me a Connie fan.
---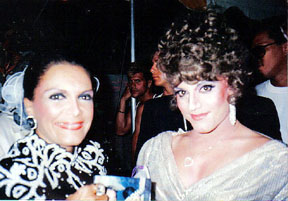 Connie Impersonator

Connie's double, he's on the right. Joey Josephs also does impersonations of Judy Garland and Liza Minnelli.

(from Philadelphia City Paper article):
Joey Josephs can transform into Liza Minnelli in 10 minutes. "I got the wrong bus schedule," says the host of Club Cabaret, a new biweekly drag series at Sisters. "So I did the face in five minutes, took off my boy clothes and put on a wig." Voila.

The South Philly native channels a cavalcade of divas, including Judy Garland, Marilyn Monroe and Connie Francis—the last of whom he's corresponded with for years thanks to her generous Italian rendition of "The Impossible Dream."

More of Joey Josephs (click here).


More of Joey Josephs:








---
Excerpt from Inside The Connie Francis Hotel
Do you know the joke? It's the late '70s. This mad queen from AnyTown, USA, is heading out to San Francisco for vacation to party his brains out.

For a brief moment, S.F. was our community's Mecca/Jerusalem/Cariterbury/Paradiso/etc. In one suitcase, the queen has the leather drag, in the other the taffeta. He lands at the airport, races to a cab, throws in the cases, jumps in the back seat, and shrieks at the cabbie: "Take me to The Connie Francis Hotel!"

The cab driver turns around and says sweetly, "I think you mean the Saint Francis Hotel."

The queen throws his hands in the air and screams, "Oh my god! She died?!?!"
---
Recording in 16 Languages
from Gerrit Jan Appel
Connie has recorded in:

1. German
2. Swedish
3. English
4. Dutch
5. French
6. Spanish
7. Portuguese
8. Italian
9. Neapolitan
10. Greek
11. Hebrew
12. Yiddish
13. Japanese
14. Hawaiian
15. Latin
(what's the 16th language Connie has recorded in???)

Nana Mouskouri has recorded in the following languages:

1. Greek
2. English
3. German
4. French
5. Spanish
6. Portuguese
7. Italian
8. Hebrew
9. Corsican
10. Latin
11. Japanese
12. Dutch

BTW, Nana Mouskouri shares the second place as vocal artist who has recorded in more than ten languages with Caterina Valente, for she has recorded in twelve languages, too (that is, if you take Italian and Neapolitan as separate languages):

1. English
2. French
3. Spanish
4. Japanese
5. Italian
6. Neapolitan
7. Swedish
8. Dutch
9. German
10. Japanese
11. Portuguese
12. Greek
---
Cingular Ring Tones

Cingular has Where The Boys Are and V-A-C-A-T-I-0-N listed for ring tones.
---
Sweet Connie Poem
http://www.it-serve.co.uk/poetry/Other/thetallesthairintown.php
---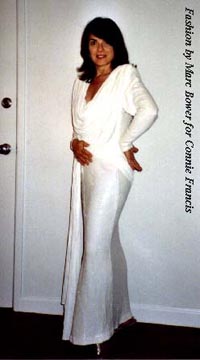 Modeling one of Connie's Gowns

Nancy models a Marc Bower dress made for Connie Francis. Connie wore this dress for a magazine cover in the 1980s. Marc Bower designed many of the gowns used for the TV series Dynasty. This dress was purchased at an auction in 1997 when Connie moved from New Jersey to Florida and sold many of her items.

Nancy is not related to Connie even though she is Italian.


Nancy (she is Italian) modeling 1950s dresses (not from Connie's collection):


---
Collage photos of Connie and Gina
from Guy Consterdine, November 19, 2004
Some photo collages someone did at maxcatsrealm.com [which domain has been taken by another, original source lost].

[Click on images for fullsize]

The two collages do a good job of (a) bringing a startling freshness to the pictures of the two women, forcing you to look closely, and (b) saying in an artistic way that both Connie and Gina were giants in their respective fields.

They also have something else in common - all the ingredients necessary to create a stunning hour-glass figure. The photo of Gina reminds me of several of Connie, especially the one called 'Hourglass' on the Photos section of our yahoogroup's site (the final photo, of those not in a folder).

[Original links are below but no Connie or Gina images ]
http://www.maxcatsrealm.com/main/connie-francis.jpg
http://www.maxcatsrealm.com/main/gina-lollobrigida.jpg

---
Lobby Juke Box
Editor's note: In 1964, the concept of a juke box that plays nothing but Connie Francis music was suggested in a Exhibitors Campaign Book for the movie Looking For Love. It read:
"'Connie Francis Sings For Free' may be a good excuse to build lobby traffic. Promote or rent a juke box and have the MGM Records distributor fill it completely with Connie Francis records. Have the volume tuned down and the box adjusted for free plays."
---
Al Di La Origination
(contributed by Jerry Wanek)
Emilio Pericoli famous hit was Al Di La from the 1962 film Rome Adventure though it was not the title song for the movie.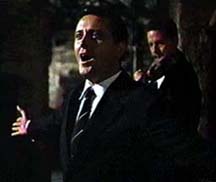 The movie starred Suzanne Pleshett and Troy Donahue. The plot was about a lonely school teacher who takes a vacation in Italy and falls in love with a guy. In one scene, they are at a posh nightclub and Emilio Pericoli is the nightclub performer where he sings Al Di La. It is all in Italian and he has a fantastic voice, almost operatic, and the lyrics are real romantic. She asks what does Al Di La mean. Troy answers, "It's kind of hard to explain. It means 'far far away,' beyond the beyond,' 'beyond this world.' That's how much he loves her in this song."
Because many of the girls on the East Coast, Philly, NJ, and NYC can understand Italian, the song was a instant success plus the romantic scene from the movie, a real tear jerker. Many U.S. singers at the time cut a recording such as Connie Francis, Jerry Vale, Vic Damone and a few others. I think Pericoli might have tried some other songs but they never caught on like Al Di La.
Lyrics to AL DI LA (Emilio Pericoli), http://www.geocities.com/SunsetStrip/Palms/2086/lyric285.htm.

---
Lipstick On Your Collar was sung by Cyndi Lauper during the Blue Angel Tour in 1982. Cyndi's version was never released in any official format. (from the Cyndi Lauper webpage at http://www.cyndilauper.com/i_loyc.htm)
---
Connie participated in the Bobby Darin documentary aired on PBS in December 1998. She said that Bobby did it all as she said, "He sang every kind of music you can possibly imagine." For further information, see the PBS webpage on this program at http://www.pbs.org/whatson/1998/12/descriptions/BDAR.html.
---
In 1998, State Farm Insurance had a commercial with Connie singing, "Whos Sorry Now?" It has a man who gets mad and throws all his fishing gear in the water with Connie singing Whos Sorry Now in the background.
---
Nice Surprise (2/21/98)
Don Porter sent this message:
I was driving to Hopa which is in the NE part of Turkey. The sun was shining the sea was blue/green and the mountains were snow covered. I switched on the radio and who should I hear but Connie Francis singing "Who's Sorry Now." It brought fond memories back and suprisingly I did not lose the signal till the song was finished. It was great. In this area we generally recieve FM92 which is mostly classical music with a bit of popular western music at FM99.4.
---
Still Searching For That Specific Connie Francis Album?
Want to buy it brand new? ID International Disc features many of her albums produced outside the U.S. at 1-800-280-2990 has a large selection of her albums, including Hawaii Connie, Great Hits Sung In Japanese, Schoner Fremder Mann, and the UK CD World Of Connie Francis. However, these CDs are subject to availability.
---
Connie on Radio Japan
A radio station in Tokyo Japan called JOQR has a program called "2001 music odyssey" which features great hit songs in the 20century, including Connie Francis, and they will play 2001 songs within this century. Their webpage is http://www.joqr.co.jp.
---
January 1st, 1998 is the 40th anniversary of the showing of American Bandstand that played "Whos Sorry Now?" It was this song on this show (on Jan 1st, 1958) that made Connie Francis a star. Although at the time she gave up on becoming a singer, and Connie was at home with her family watching American Bandstand. When Dick Clark mentioned, "Here is a new girl singer that is heading straight for the number one spot." Connie's initial reaction was "good luck to her" (sour grapes), but she was flabbergasted (and pleased) when he played her song.
---
Connie Interview
Editors Note: Connie is probably the most interviewed star ever. Gary Olsen sent me this story:

I grew up in the town next to Connie's home in Essex Fells, NJ. In 1967, through a journalism contest, I decided to try to interview Connie for our school newspaper. I arrived each day at her front door (4 miles away by foot) to be graciously greeted by either her mother or father. They said try again tomorrow.

After 13 attempts, and the family was getting pretty familiar with me, Connie was summoned to the door. There she stood in a flowing pink gown and a thousand times prettier than on TV. She declined the interview because she said she was not dressed properly in her gown (I was 16 and she was in this beautiful gown) and asked if I could return tomorrow for her Halloween party. At the party, she was in costume, a tap dance outfit of some sort, and people were arriving. The interview went well and it was wonderful. I will always be a great fan of hers, and I am glad to see she is working and doing so well.

Editors Note: I asked Gary if he had the notes of his interview or can he recall them. He replied:

"There isn't much more I remember, other than the house having the gold records, awards and photos lining all her private office, and just her praise for a kid who didn't know what he was really doing, being a fan, and trying his best to make this work."
---
Guitar Player for "Lipstick On Your Collar"
Editors Note: Every now and then, someone asks me who is the guitar player in the song "Lipstick On Your Collar." The answer is George Barnes.
[from the Souvenirs set, Polydor 1996]: Ray Ellis recalls the stellar lineup on this session: "I think it was Panama Francis was the drummer, Milt Hinton was on bass, George Barnes played the guitar solo on 'Lipstick On Your Collar', Dick Hyman played piano... these were our studio guys. They could play anything."
---
Rare Recording

Editors Note: Sometimes when you think you know everything Connie Francis has sung, along comes something new. Sharon Gerber sent me this message.

One morning I woke up about 5 AM and put the radio on. The announcer said he was going to play a rare recording of "The Honeymooners" theme song. It is rare because it is the only known recording with words. He said that Connie Francis was the only singer to have recorded the song with lyrics. The song, "Melancholy Serenade," is on Connie's album "The Exciting Connie Francis" and on the Bear Family CD box set "White Sox, Pink Lipstick, and Stupid Cupid."
---
My Heart Went To My Throat

Many people would cherish the opportunity to meet Connie Francis in person. John Donatelli had a wonderful experience of unexpectingly meeting Connie Francis and also contributing to her book. Here is his story:
It was a warm summer's night in Manhattan. A friend of mine and I were at the San Gennaro feast in Little Italy because I saw a poster in my neighborhood in New Jersey that Connie was going to perform there that night (by the way, I asked the store owner for the poster which I still have).
We were just walking around when we suddenly heard people yelling and clapping. I looked over to a nearby storefront and saw Connie waving to the small crowd of people as she stepped inside. Needless to say, I rushed right over, scrapbook in hand, hoping to get an autograph. Needless to say, I was too late.
We hung around for quite some time hoping she would come out again and give a signed glossy or something. While waiting, people became interested in my scrapbook as they gathered to look at the clippings and pictures. It wasn't long before people started coaxing me to try and get in to see her. I talked to the policeman guarding the entrance, but no way would he let me in.
Finally, fustrated I asked the cop if he would take my scrapbook in and have Connie sign one of her glossies that I had. He agreed. He took my scrapbook and went inside. About 5 minutes passed when suddenly the door opened and out stepped the cop--without my scrapbook!!! My eyes widened and I was about to ask him "Where's my scrapbook?" when suddenly he said "Who's John Donatelli?" I froze! People started patting me on the back, pushing me toward the cop. "You?" he said. I shook my head yes. Naturally, all kinds of stuff rushed through my head in one split second. Did I do something wrong, did the cop see something I left inside the scrapbook? Did something offend Connie? I didn't know what to think!
Suddenly--"Come with me." the officer said. I was mortified as he started opening the door to the storefront where Connie had entered. People starting cheering me and yelling! I moved in slow motion. I felt horrible because I was in raggedy jeans, a tee shirt and I hadn't shaved. I slowly followed the cop.
As I entered the storefront, there she was! All in red (of course) sitting on a folding chair eating a cannolli. I walked up to her. She didn't look up right away, but was engrossed in my scrapbook. Then slowly she looked up. My heart went to my throat. "Hi" she said. "Connie, I'm so happy to meet you" was the only thing I could get out. "Where did you get all this stuff?" she asked. "I've been a fan since I was 15 years old" I said. "Wow!" she said. "Thank you so much" She continued flipping through the pages, stopping here and there pointing certain things out to her companions. Then she spoke to me again.."I was wondering if you would consider lending this to me for research for my book?" My first thought was to say "No". In that split second I was so afraid to part with the scrapbook. I guess fearing I would never see it again. But of course, my response was "Sure!, but that's only one." "You mean there's more?" she said. "Yes, 2 more volumes." I replied. "Oh, my God!" she whispered. "I can mail them to you if you'd like." I offered. "Would you be willing to do that?" she asked. "Sure" I said. "But could you just give me one of those pictures to take with me and autograph it?" I asked. "Of course" she said. "Which one?" She turned the scrapbook toward me and I bent toward her and flipped through the pages and found one of the nicest glossies for her to sign. She did.
In short, one of her companions gave me Connie's address and I mailed the other 2 volumes of my scrapbooks to her. She wrote me a letter thanking me for them and saying she would take good care of them. After a month or so I started getting nervous not hearing anything from her. So I wrote a letter to her. She replied that she was making progress and promised to return the scrapbooks as soon as possible. Well, about 2 months or so went by and they finally arrived home. One Volume was a little messy, but it seemed nothing was missing. It was one of the biggest thrills of my life and one I will never forget.
John Donatelli has a really nice Connie Francis page at http://www.freewebs.com/conniefrancis. He has a section that includes photo sleeves of many Connie Francis CDs, LPs and 45s. It is a excellent resource.
Editors note: A friend said, "Now don't faint if you meet her" which I did not when I met her in July 1997.
---
Connie Francis Sings "Will You Still Be Mine?"
When...
(1966)
The Pacific is a lake
Betty Crocker hates to bake
Holding hands is an out of date sensation
Love is carried on the automation
When mosquitos do not bite
Donald Rickles is polite
Surfers don't ride the crest
Belafonte hides his chest
Carol Baker is overdressed
Doris Day turns into night

(1996)
CNN runs out of news
Columbo can't come up with clues
Ross Perot becomes a little proper
Walter Cronkite marries Cindy Lauper
Howard Stern is a man of class
Tabloids always print the truth
Woody Allen falls for Dr. Ruth
Al Pacino is overdressed
Madonna hides her chest
Doris Day turns into night

(2026)
(predictions anyone?)

---
Connie Francis "Wallpaper"
Here are a few background pictures of Connie Francis that replaced the original desktop pattern on computer screens. They are very impressive to say the least. The screen saver was disable of course. Screen savers are a waste of money. I've never seen a CRT with a burned-in image from a Mac or a PC. The monitor usually poops out before the phosphor has a permanent image and who cares if there is a permanent image of Connie Francis?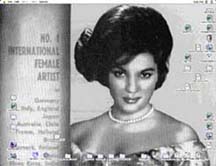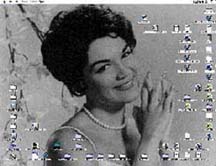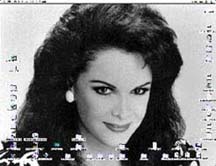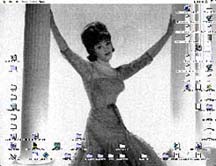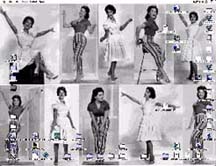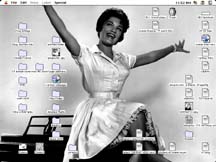 ---
Return to The Connie Francis Page
---
Feedback is desired (suggestions, comments, errors, gripes, whatever. Michael Wright, mfwright@batnet.com