Connie Francis Forum Part 6
http://www.mfwright.com/connie_francis/cfforum6.html
(includes articles submitted by fans and admirers of Connie Francis)
---
---
Last update: 6/9/00
Contents (entry date)

---
Lifesize Connie Francis Poster (6/9/00)
by webpage editor
I made a lifesize poster of Connie using high density scan and print it on a Xerox 8830 printer which is capable of B&W prints (on regular paper) 36 inch wide and variable length. The particular poster is 75 by 45 inches. Here's how I did it:
1. I scanned a 8x10 photo (the particular is the one on my main page of her by the pole in the long dress, gloves, poofy hair) in a high density and high size. Stored file in JPEG format on a ZIP disk. I set image size at 75 by 45 (650%) and tried for 300 resolution. However, the image was way too large so I reduced it to 100. Resolution 100 still produces satisfactory prints. Compared to 72 resolution of what I typically scan photos at for webpages.
2. The local Kinkos Copies has a oversize black and white printer (Xerox 8830). It prints on regular paper that is on a 36 inch wide roll. Cost is 50 cents a square foot.
3. I used the PC at Kinkos that prints to the oversize printer. Cost is $12 per hour. If you have the image prepared, then expect to spend about a half hour at the computer. There were some computer time for adjustments to make and it should take only about 15 to 20 minutes to print. However, this could take longer (2 to 6 hours) as problems can occur such as computer crash, running out of memory, wrong sheet size selected, etc.
Instead of a 75 by 45 inch wide poster, I simply left it at 36 inches wide but it is still very impressive. Although Connie is not 75 inches tall, but why not have a poster that is larger than lifesize.
Connie Francis Standup Cutout
I did the same of Connie of the cover from the "Connie Francis at the Copa" LP (the white dress version). However, the dress flares out quite a bit so I had to print an additional since the overall print is wider than 36 inches. The additional piece that I glued on the side was only about 15 inches, the lower part of the dress.
This was then glued on foam board about 1/4 inch thick, white on both sides. using a non-toxic gluestick. The full image was cutout and leftover portions of the foam board to fabricate a stand on the back. The actual height is 60 inches (I would have made it taller but this was the first print I did so my earlier estimates were low).
The particular photo I scanned was the LP cover "Connie at the Copa" as I did not have a quality 8x10 to begin with (though I just got one from ebay).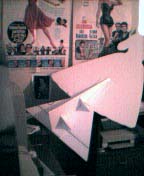 In the second photo shows the backside of the standup. The bottom has to be flared horizontally so it won't fall over. This standup looks shorter than it really is because of the camera angle.
I also made a standup of Gina Lollobrigida (click here).
---
Connie Copa Dress Design (12/5/99)
by Janis Galef
Editor's note: Janis is working on detailing her dress at presstime. Photos of her copa dress will be posted when she is done.

LP cover of album,
"Connie Francis at the Copa"
Well, I have been busy sewing my very own replica of the gown Connie is wearing on the gold and black LP cover of Connie at the Copa. I started off with a Butterick Retro 1952 pattern and then I modified it. First, I added a floral lace extra layer of fabric over the bodice of the basic taffeta dress. Then, I had to change the neckline. The pattern I have has a square neckline. I had to make a scoop or boat neckline. Then, the taffeta dress has a lower neckline than the floral lace. So, there are actually two necklines in the front. That was a bit tricky since the double layer of fabric had to be joined with the facing on the inside.
Then, I added seven yards of bridal netting over the skirt. The sewing machine I borrowed did not gather very well so I gathered the netting at the waist by hand. I then stitched that onto the taffeta skirt and then joined that together with the bodice.
The 14" zipper goes in the left side. How long has it been since we've seen side zippers, girls?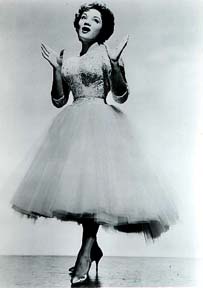 photo of Connie wearing Copa dress
(before photo touchup for album cover)
Then, I made a belt out of matching floral lace over taffeta. It joins in the back with velcro. It has medium to heavy weight interfacing fused into it for added weight and strength. I can't tell from the album cover if Connie's is sewn into her gown or if it is separate piece.
Next, I will glue lines of sequins onto the stems of the roses in the floral lace and then, lastly, sew on pearl beads inside the curly cues of the leaves coming out of the stems.
Yes, this gown has EVERYTHING but the kitchen sink on it.
I just love it. I was making a prototype because I thought it would take many tries to get the fit right. (It's been years since I tailored anything.) However, this prototype just fit me perfectly so now it is my "final" one. It is hot pink taffeta with red floral lace and red bridal netting. It will have red sequins on it. I know the real one Connie wore was probably white. I was going to make the final one white!
And, Connie's wearing satin pumps. I think she's wearing 4" heels. The shoes are sold at bridal shops and dyed to match.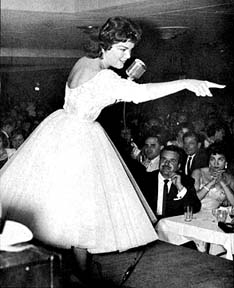 Connie performing at Copacabana
Copa stage gown - NITTY GRITTY
OK, for you gals who are interesting in sewing nitty gritty, here are some very technical details of the Copa gown construction:
The Butterick Company pattern retails for $14.95 but everybody sells it for half price. And, sometimes you can get even that on sale but that's a lot trickier - you have to really watch the sales. Also, the sizes run so differently from the dress sizes in the stores. I usually wear a 4 or 6 in "real clothes" but the pattern I used was a 12!
Each pattern comes in 3 different sizes and you cut on the lines that go to your size. Also, I used "petite" so the pattern further modifies itself to get you scaled down to a small woman frame. Also, if you are very disproportionate (for example, extra large or small busted or waisted or extra long or short torso, etc.), you can further tailor the dress to custom fit you.
I plan to have a Copa website that shows how to select your pattern, alter it to your size and measurements, select your fabrics and actually construct the gown.
I hope I start the revival of an old craze!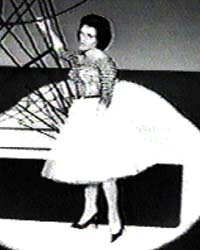 Connie wearing another type of Copa dress
singing "Die Liebe ist ein seltsames Spiel" for a
television show. (sorry the contrast is poor)

I never glued down sequins nor sewed pearl beads before so I have to teach myself how to do that. If you can believe it, there are MANY types of pearl beads - every effect - translucent, rainbow effect, opaque, etc., etc. as well as every size under the sun. In the Copa album cover you can tell some of the decorations are sequins and some are beads. And, it looks like she has two rows of sequins at the neckline in the floral lace layer of fabric.

There are even many kinds of glue! A brand called "Victory" claims it can be dry cleaned. I couldn't get a bottle of it so I'm using a flexible, stretchable fabric glue. That way I can peel the lines of sequins off and then get it dry cleaned. Then, I'll have to glue on new ones when I get it back from the cleaners.

Hey, showbiz is a lot of work!





Jan Willem de Gee adds:
In the (US) book The History of American Bandstand, from the 50's to the 80's, that was published in 1985, there are several pictures of Connie. On page 18 of this book it shows a picture of "Connie Francis / 1958", where she is performing in Bandstand, wearing exactly the same dress as on the cover of the Copa album.

Additional notes from webpage editor:
The Copa dress design was also popular for other performers.
Vera Ellen and Rosemary Clooney
perform a duet in the movie "White Christmas"
Cyd Charisse is being evaluated by
Fred Astaire for a potential dance partner
Although Connie was not the first to wear this style, she wore it better than the other ladies.
---
Connie Coca Cola Display (12/5/99)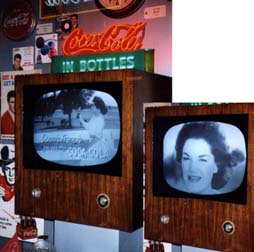 On the strip in Las Vegas, there is the Coca Cola Factory Tour attraction that features footage from a commercial Connie did in the early sixties as seen in the image on the right.
Our gal was the featured celebrity that day. They showed a video of her singing her "Feel really refreshed, work and play at your best, it's the refreshingest, call for a Coke, ice cold, Coca Cola!" She was in a horse pasture and then in some kind of roadster.
Check out this place when you're in Las Vegas. It is on the strip across from the New York New York Casino. There used to be a audiofile of Connie singing this commericial at http://www.tiac.net/users/cckid/audio/60-cfran.au but its gone!


---
Character's name of Connie's movies (12/5/99)
by Diane G.

How to remember the character's name that Connie played in her movies:

Take the letter from the last word of the movie title.
Where The Boys Are... A for Angie
Follow The Boys... B for Bonnie
Looking For Love... L for Libby
When The Boys Meet The Girls... G for Ginger
Sister And The Savage... Sister Mary Claire
---
How I Came To Love Connie Francis (12/5/99)
by Sal Presti

My first introduction to Connie was when I was very young. I did not know who she was. A friend of my mother's gave her a batch of old 45s, and among them was I'm Sorry I Made You Cry b/w Lock Up Your Heart, and another was Among My Souvenirs b/w God Bless America. Well, I loved the former, and kept playing it over and over, and especially the B side, Lock Up Your Heart. Well, sometime later, I bought an album, For Mama, and loved it, and did not realize that this was the same singer as on the 45s. Her hit making days were gone when I discovered her, so I was not really familiar with her from the radio. Then I discovered a radio station that played Connie and realized that she had had many hits. I then went out to buy The Greatest Hits album, and one album led to another. I also discovered that my family and neighbors were in love with her, and hers was the album I heard everyday at dinner time emanating from the opened windows, and this was the Italian Favorites album. So, I seemed to have discovered Connie little by little and have never grown tired of that beautiful voice. I eventually got to see her live when my family took the family to see her during my grandmother's birthday. The Italian Favorites album was a staple in all homes.
---
Connie's Reviews (12/5/99)
by Kevin Harkin

Connie does sing beautiful in any language; although, of course, she must have an accent to the ears of the natives of each particular country. But, I don't care. I can only understand a little of the Spanish and about 75% of the Italian and, to me, it sounds wonderful.

I think most people who badly criticize Connie's singing, are tone deaf. Music, any kind of good music, probably sounds bad to tone deaf people. In fact, I do know one person who is really tone deaf; everything good sounds bad to her and everything bad sounds good...go figure?

Native Italians say Connie's English accent in the later Italian recordings is almost nonexistent. I've seen rave reviews about the way she annunciates German and Yiddish. I played a Spanish recording of Connie for one of the Guatemalans that works for my cousin, and he say asked: "Is she Spanish? So, who knows what really lies behind bad reviews.

Can you imagine Connie doing world tours and having to sing in a different language every few nights? That must have been mind-boggling. What talent. I don't think she would have used cue cards during a live performance so she must have memorized most of her lyrics and stage patter. That, remembering the tune itself, stage moves, etc, etc, takes extreme talent, dedication and a love for her audience.

After Connie starting singing in different languages, many, many other artists followed her to other countries. She paved the way for so many artists. It's too bad that in this country, she isn't given the recognition and honors that are due her. Well, at least outside the U.S. she is very much appreciated. We should be thankful for that. And if the rest of her fans are like the fans on this list, then Connie is a very lucky lady. Right? We love her and appreciate her.
---
Lifetime of Love (12/5/99)
by Janis Galef

I know it is not a big thing about Connie's maybe not be super-clear about her taking the feminine perspective. Who cares? I don't. I think she gets to the right place and we aren't really led astray. By the way, as for "Tammy" if you buy the original sheet music you can see the "boy" and "girl" lyrics. "Darling" is the boy's lyrics. Also, the Italian sheet music version of "Mala Femmena" has "boy" and "girl" lyrics. Female words are by Toto and Ray Allen. Of course, CONNIE'S version is a rearrangement of the whole song and she adds the English lyrics which I have not found in any sheet music.

As for "Who's Sorry Now," It has all these other verses to it on the sheet music and Connie really only sang the refrain. And, that last "Right to the end, just like a friend.... etc." She changes key in mid-song. That gives it a kind of bravado feel. Nice touch.

Connie is stylizing the song to make it her own. I like to compare her version to other singers' versions of the same song. I also have various karaoke versions of "Where the Boys Are." Some change the ending so that it is ordinary. Connie puts this big finale on it - KA-BOOM! "Someone waits for MEEEEEE." Since there were originally two versions of the song and the one Connie liked was not used - it would be interesting to listen to the version that lost.

In that same vein, I was watching a show on Martha Reeves (and the Vandallas) on TV. Originally, Smokey Robinson would have gotten the song "Dancin' in the Streets" - she said she convinced Berry Gordy that it should be sung big and airy - not mellow and laid back like Smokey does it. She got the song and did it her way and it was a hit.
---
"All Time International Hits" LP (12/5/99)
by Janis Galef

I'm playing the "All Time International Hits" LP as I'm writing this. I'm guessing this is 1975. Do you think Connie's "Mack the Knife" sounds like Bobby Darin's? I do. I think it has the same vitality, feel to it. She must have been influenced by him a lot.

I've never heard "The Wedding (La Novia)" before. This is the super-sentimental, "tear in the voice" Connie. Same with "What Now My Love (Et Maintenant). This one is even more emotional than "The Wedding." I never heard Connie sing in French. Remember Sonny and Cher's version? Sonny's voice was the high one and Cher's was the low one.

"Misirlou" sounds like a gypsy song. There goes Connie in Greek. Greek is a pretty language when she sings it. "Never on Sunday" has some Greek on it. She makes it sound like Italian..

"And I Love Her" - Connie singing the Beatles! Very high and thin in places, kind of wistful and sophisticated. She also sings Beatles on the Sahara album - "Yesterday." "Yesterday" is GREAT, really beautiful. I would have loved to hear her sing that live.

"Milord" OOOOH! This one is so FUN. This is the big, expressive Connie! I love this one. She's got this real husky, low voice. I've never heard her sing this one before - wow! Nice feeling, personality comes through. You guys have got to pull this one out and listen to it. Hey, Giovanni, when you're feeling down, listen to this one.

EEK! "Cuando Calienta El Sol" - Spanish at its best. Where are my castanets? This one is reminiscent of "You Don't Have to Say You Love Me." Big, outdoorsy, everybody join in the Conga line.

Reply to "All Time International Hits" LP (12/5/99)
by Richard Molway

<< Two me, they are in harmonic resonance on that song. They could have sung a duet! >>

Thank you for that thought-provoking post of the similarities between Connie and Bobby Darin on MACK THE KNIFE. Certainly, when compared to the Four Freshman, Connie's version is far more in synch to Bobby's.

I think you 'nailed it' with "cool man" as that relates to Bobby Darin. He is, perhaps, my favorite male vocalist and yet I am embarrassed to say I don't own one release by him. Had I, it would have been far easier for me to draw comparisons to his and Connie's takes of the same song. Unquestionably, they were influenced by each other (Connie & Bobby) and I think the influence went far beyond their romantic indiscretions (LOL).

And speaking of duetting, have you ever heard Bobby and Connie together.? I have an unreleased take of them doing a duet (some sort of test pressing of which the title escapes me, momentarily anyway) and they sound wonderful together. I have also seen videos of them duetting together and they were "terminally cute."

<< I'm playing the "All Time International Hits" LP as I'm writing this. >>

If you are interested in dates, I will offer you dates for the recording sessions for this "awesome" effort by Connie, All Time International Hits on MGM E/SE 4298. Here goes:

1. WHAT NOW MY LOVE (Et Maintenant) = May 21, 1965 & June 3, 1965 (two dates because the version on this LP includes the overdubbed French vocal)

2. MISIRLOU = May 24, 1965 & June 3, 1965 (two dates because the version on this LP includes Greek vocal overdub)

3. AND I LOVE HER = sorry, I don't have the recording date for this effort

4. MILORD = May 25, 1965 & June 3, 1965 (two dates because the version on this LP includes overdubbed French opening)

5. LOVE ME WITH ALL YOUR HEART (Cuando Calienta El Sol) = May 25, 1965

6. YOU'RE BREAKING MY HEART = May 21, 1965

7. MEDLEY (Exodus / Havah Negilah = May 25, 1965

8. LA VIE EN ROSE = May 21, 1965 & June 3, 1965 (two dates for this version as it includes the overdubbed French version)

9. STARDUST = May 24, 1965

10. GIRL FROM IPANEMA = no date for this effort

11. MACK THE KNIFE = mono version May 24, 1965 stereo version May 25, 1965

12. THE WEDDING (La Novia) = May 25, 1965

Your post draws comparisons to her version of MACK THE KNIFE with Bobby Darin's. In what sense are you comparing them? I've never considered similarities and, although I remember his version by ear, I can't play it to compare. Perhaps they are more similar than I had thought. I'd been curious to learn how they parallel each other.
---
More on the Rock and Roll Hall of Fame (12/5/99)
by Charlie Buzbee

To my fellow Connie fans: I myself think it is very sad for the Rock and Roll Hall of Fame to ignore Connie. It is upsetting, but I think about it and they say Connie was not a rock and roll singer, and I have to sort of agree. Connie is an international star, she cannot be pidgeon holed into one catagory. I agree she should be in the Rock and Roll Hall of Fame, but Connie is too big for one segment. What made me think of this was the CMA awards last night. Connie sings country, Connie sings Cole Porter, Connie sings Gershwin, Connie sings jazz, blues etc. The only thing I think Connie hasn't sung is opera. She has sang for kings and queens and poor saps like me. The only way to sum it up would be to listen to the words to "If I Never Sing Another Song"---I've had my fame, you know my name------thanks to you I'll get by even if I never sing another song". So no matter what let the rest of the world go by. I will Always love connie francis.
---
Why Do We Love Connie? (12/5/99)
by Diana Apple

One of the things that stands out in my memory was when some girls and I got together to write fan letters. I only wanted to write to Connie, but they wrote to others, including Elvis. I was teased for writing to a girl, but I didn't care. I thought of Connie as my friend. About a month later, I received a reply from Connie (actually Connie's helpers, but I didn't know it then), but none of my friends got anything. No doubt about it, Connie was true to her fans. I knew then that she would always be special to me.
---
"I Got Lost In His Arms" (12/5/99)
by Richard Molway

Frank writes: << If you haven't heard "I Got Lost In His Arms" lately, then please do yourself a favor -- it is a real gem. >>

For me, its hard not to agree with anyone who sings the praises of any song that Concetta performs. This LP, next to A NEW KIND OF CONNIE, ranks as one of my all time favorite albums. Ironically enough, it is the selection aforementioned that ranks amongst my most favorite on the LP as well. There is so much "swing" going on in this cut and Connie appears to be in such control vocally that it is no wonder people are drawn to it.

I am a jazz fanatic essentially and love the songbirds who sing swing such as the ever lovely Ella Fitzgerald, Sarah Vaughan, Peggy Lee, Dinah Washington, Irene Kral, Ethel Ennis, June Christy, etc. etc. etc. Although not known for her ability to "swing" necessarily, Connie's versatility once again reigns supreme with this effort and she is as good as any of those listed above when you equate this song to their best work. Many might object to this analysis, but it is my opinion.... and as the song goes..... "You Can't Take That Away From Me".
---
Dialects (12/5/99)
by Janis Galef

In the lyrics of the song, Connie says, "Al Di La means you are high above me, very far..." I don't know if that is high Italian or Neapolitan. When I tried to translate the lyrics to "Mala Femmena," I found out that it is written in Neapolitan. I took the song to a linguistics professor at Utah State University and he said that is as close as he can describe what it is and he's fluent in Italian.

Furthermore, in "Mala Femmena," Connie adds English lyrics of her own. That "Can't you see, how very much he means to me, how empty all my life would be...." is not in the English "translation" either.

For that matter, I once looked up the lyrics to "Who's Sorry Now" and Connie really rearranged that one! A whole section of the song is missing. And, of course, her dad made it go up a key when she sings "Right to the end, just like a friend....." It makes the song more interesting, modern and country-sounding.

Pop music allows the artist to do anything she wants to make the song her own.

Followup on this article:
from Pat O.
There was tremendous attention that Connie Francis received in Italy for singing Mala Femmena with feminine lyrics instead of the traditional masculine. No joking, it was really considered revolutionary.
---
Return to the top Forum page
---
Return to The Connie Francis Page
---
Feedback is desired (suggestions, comments, errors, gripes, whatever). Michael Wright, mfwright@batnet.com