Gina in the News
---
Gina at 2016 TCM Film Festival articles
Gina! The great Lollobrigida appears at TCM Fest
Arts Meme, April 30, 2016
Coppola, Bernstein, Lollobrigida turn out for TCM Hollywood Film Fest
Monsters and Critics, April 30, 2016
TCM Classic Film Festival to pay tribute to Italian actress Gina Lollobrigida
Examiner, April 27, 2016
TCM Classic Film Festival to Pay Tribute To Golden Globe®-Nominee Gina Lollobrigida
Hollywood Glee, Feb 3, 2016
Gina Lollobrigida – TCM Classic Film Festival 2016
TCM Guest Programs
TCM Film Festival
PDF download
Gina at 2016 TCM Film Festival video clips
Gina Lollobrigida Breaks The Silence on Her Outrageous Tabloid Scandals, Vanity Fair Feb 2015
http://www.vanityfair.com/hollywood/2015/01/gina-lollobrigida-tabloid-scandal
Numerous photos of Gina at http://www.zimbio.com/photos/Gina+Lollobrigida
Arthur e la guerra dei due mondi
Dal 23 Dicembre nei cinema di Roma
http://www.pinkroma.it/pinktime/week-end/arthur-guerra-due-mondi-23-dicembre-cinema-roma
Dal prossimo week end il film d'animazione di Luc Besson sarà nelle sale cinematografiche della Capitale. Un'anteprima di solidarietà è stata promossa dal Presidente e Amministratore Delegato di Moviemax Media Group Guglielmo Marchetti e dalla manager di eventi Tiziana Rocca. Il ricavato delle donazioni dell'iniziativa è stato devoluto all'associazione Salva Mamme-Salva Bebè

Parterre di star sabato scorso 17 dicembre per una mattina all'insegna del divertimento e della solidarietà, con l'anteprima italiana del tanto atteso nuovo film d'animazione "Arthur e la guerra dei due mondi" capitolo conclusivo della saga creata del regista Luc Besson, che uscirà nelle sale italiane il 23 dicembre p.v.

Tanti i vip presenti, a partire dalla madrina Gina Lollobrigida, Jane Alexander, Danilo Brugia, Giulio Base, Fabrizio Bucci, Nathalie Caldonazzo, Simona Cavallari, Alessandro Di Pietro, Elena Bouryka, Roberta Beta, Annamaria Malipiero, Luana Ravegnini, Silvia Salemi, Mattia Sbragia hanno sostenuto questa importante iniziativa insieme ai loro bambini per un evento che ha unito insieme spettacolo e solidarietà.

L'anteprima è stata presentata grazie al supporto della Moviemax, presente Roberto Proia (Theatrical and Marketing Director) e ha visto anche il sostegno delle istituzioni con l'intervento di Isabella Rauti, Consigliere Regionale del Lazio, che ha rinnovato il suo impegno a favore dell'Associazione Salva Mamme-Salva Bebè. L'anteprima è stata possibile grazie anche all'UCI Cinemas Porta di Roma che ha ospitato l'evento.
2012 Premi David di Donatello - Awards Ceremony
Gina Lollobrigida attends the Premi David di Donatello awards ceremony at the Auditorium Della Conciliazione on May 4, 2012 in Rome, Italy.

Gina Lollobrigida, ospite d'onore di Carrara Marmotec 2012 [Tuscany News] has photo of Gina working on a sculpture.

Telethon Gala 2011 - Rome Film Fest
October 27, 2011 - Photo by Paolo Bruno/Getty Images Europe




Gina Lollobrigida. Need We Say More?
November 12, 2010
by Michael Wilson, NY Times
http://cityroom.blogs.nytimes.com/2010/11/12/gina-lollobrigida-need-we-say-more/
[excerpts below]
The Most Beautiful Woman in the World walked into Harry Cipriani on Fifth Avenue in black boots and a riding-hood-red cloak, and for the only person in the room expecting her, it perhaps was a trick of the imagination, but it seemed as if the whole restaurant lost its train of thought for a second. Then it righted itself, and the maître d'hôtel hustled over, and the woman became wrapped in warm Italian greetings and air kisses before finally removing her big sunglasses.

Ms. Lollobrigida, as vital and vibrant and hot-blooded as she was in her many roles as the voluptuous queen/gypsy/trapeze artist/opera singer/who cares, when she was routinely referred to by the aforementioned superlative, and even starred in a film by that name (retitled "Beautiful but Dangerous" for its American release, for some reason). She lives in Italy, but was passing through New York these last two weeks for a bunch of reasons, explained over the course of a couple of chats.

First, she wants a museum to show her sculptures. Less known than the glamorous first career of Ms. Lollobrigida is that she followed it with a second — photojournalism — and a third, sculpture. Specifically, towering sculptures of people, often women, and often likenesses of herself. Exhibitions of her work have drawn huge crowds in Italy and elsewhere in Europe.

"People are surprised when they see I can do it," she said. "They think, 'Oh, an actress.' "

Another great thing about New York: doctors. Ms. Lollobrigida suggested that in Italy, to this day the occasion of her visit for a checkup is greeted with unprofessional enthusiasm among doctors. "It's like a striptease," she said. "There's a queue of the doctors to do an injection." She said she heard one doctor ask another, "Do you want to see a very sexy X-ray?"

In New York, she said, "I feel normal."
Gina Lollobrigida set to dazzle Qatar
(Gulf Times) - 27 January, 2010
[excerpts below]
Italian movie icon Gina Lollobrigida is in Qatar to oversee the preliminaries for her exhibition to be held from March 9 to 16 at the Four Seasons Hotel.

captivated Italian cinema lovers and Hollywood from the 1950s to the early '70s. "Doha has changed so much since I first visited this sunshine country in 1970s," she told Qatar News Agency (QNA), going down her memory lane that is embellished with incredible show biz moments and so many achievements that compelled top editors to feature "The Most Beautiful Woman in the World" on the covers of their magazines of that era.

Lollobrigida is in Qatar to oversee the preliminaries for her exhibition to be held from March 9 to 16 at the Four Seasons Hotel. "I will be exhibiting two sculptures; one is six metres high depicting the plight of hungry people and the other one is of Esmeralda, a character that I played in the film The Hunchback of Notre Dame',' she said. She had endeared audiences by her performance with co-star Anthony Quinn who played Quasimodo in that film. Although she captivated the world by her extraordinary beauty and her films, art and photography are her passion. She has often said, "I became an actress by mistake."

She had studied painting and sculpting at school, but went to enter fashion modelling. She later successfully contested in several beauty pageants which opened door for her long career in films. "I was lucky to start my career in films at a time when there were good directors and actors in the 1950s when cinema was at its peak," said the native of Subiaco, Italy, who has featured in over 70 films and television productions up to 1997.

Lollobrigida, given the sobriquet of The Mona Lisa of the 20th Century, did not take to photography and painting as a passing fad. She continued clicking artistic photos while travelling the world to different locations for her film shoots. She focused more on photo journalism and art in the mid 70s.
La Lollo Shows Off Her Snaps
http://www.ansa.it/site/notizie/awnplus/english/news/2009-06-24_124354915.html
Screen icon's work as photographer on display in Rome
(ANSA) - Rome, June 24 [2009] - Italian movie icon Gina Lollobrigida will be showing off her lesser-known but greatly praised talents as a photographer with a sweeping retrospective that opens Friday in Rome.

Around 250 of what organisers said were the most significant photos 'La Lollo' has taken over 50 years of travelling the world will go on show for the exhibition at Palazzo delle Esposizioni.

On show are shots of people and places from her trips to India, the Philippines, Russia, China, Japan, and other places, while an entire room is dedicated to photos of Italy.

Many of the pictures reflect Lollobrigida's work with the poor and sick from her long collaboration with humanitarian organisations such as UNICEF and Doctors Without Borders and time spent with Mother Teresa of Calcutta. "Gina Lollobrigida is a lady with a will of steel, a tireless traveller and a fully fledged 'femme forte' of our era," organisers said of the actress, who was appointed the Food and Agriculture Organization's first female ambassador in 1999.

As well as snaps of her extensive travels, Lollobrigida will also showcase portraits of stars from the worlds of showbusiness, politics, art and fashion including Indira Gandhi, Fidel Castro, Henry Kissinger, Grace Kelly, Audrey Hepburn and Sean Connery.

The exhibition runs at Palazzo delle Esposizioni in Rome from June 26 until September 13.

Editor's note: Gina's website should have this large book available for sale soon.

Some photos of Gina during opening from the website below

Additional coverage:
La Lollo at 81: Still an icon, with honors
International Herald Tribune, France - Oct 24, 2008
from http://www.iht.com/articles/2008/10/25/arts/gina.php
Lollobrigida flipped through a catalogue of her recent sculpture, admiring her creations. She hopes to exhibit her work in the United States. "In the film, it's the director that moves everything," she said. "In the sculpture, I am my own boss."
[same article below]
FILM; Lifetime Honors Arrive as Life Goes On
By Rachel Donadio
New York Times, United States - Oct 25, 2008
from http://www.nytimes.com/2008/10/26/movies/26dona.html
The National Italian American Foundation and the Rome International Film Festival are honoring the work of Gina Lollobrigida this month.
Afghan and Italian films triumph at Rome film fest (Roundup)
Europe News
Oct 31, 2008
from http://www.monstersandcritics.com/news/europe/news/article_1440367.php/Afghan_and_Italian_films_triumph_at_Rome_film_fest__Roundup__
Earlier Friday the festival honoured veteran diva Gina Lollobrigida with a career Golden Marc'Aurelio Acting Award. A documentary, Gina Lollobrigida: An Italian symbol in the world, was also screened.
Prolongan Hasta Enero Exposicion de Gina Lollobrigida
AnsaLatina.com, Italy - Nov 14, 2008 from http://www.ansa.it/ansalatina/notizie/rubriche/cultura/20081114144934769146.html
"PIETRASANTA (ITALY), 14 (ANSA) - the exhibition of sculptures and photographies of the Italian actress Gina Lollobrigida in Pietrasanta, center of Italy, will extend until the 6 of January, due to the great affluence of visitors."
Gina Lollobrigida: "Tornerei sul set ma solo per un film sulla mia vita"
11/1/2008
from http://iltempo.ilsole24ore.com/spettacoli/2008/11/01/946474-gina_lollobrigida_tornerei_solo_film_sulla_vita.shtml
A 81 anni potrebbe anche accettare di nuovo la sfida di recitare davanti alla macchina da presa, magari per un film sulla sua vita: lo ha rivelato Gina Lollobrigida ricevendo commossa, e tra qualche lacrima, il Marc'Aurelio alla carriera dalle mani del sottosegretario alla presidenza del Consiglio Gianni Letta.
Festival Roma, Lollobrigida: tornerei sul set solo per un film sulla mia vita
Adnkronos/IGN, Italy - Oct 31, 2008
from http://www.adnkronos.com/IGN/Spettacolo/?id=3.0.2656978424
It's Cannestastic
Sunday May 13,2007
David Wiggs helps screen siren Gina Lollobrigida recall Cannes' golden era.
from http://www.express.co.uk/posts/view/6883
Gina Lollobrigida and longtime boyfriend call off their wedding, reports say
December 06, 2006
(AP) - The wedding between Italian actress Gina Lollobrigida and her longtime Spanish boyfriend has been called off, news reports in Italy and Spain said Wednesday. Lollobrigida, 79, had been scheduled to marry Javier Rigau y Rafols, 45, of Barcelona, Spain, on Jan. 27 in Rome. The couple, who met at a party in Monte Carlo, Monaco, had been dating for 22 years.
The wedding between Lollobrigida, once dubbed "the most beautiful woman in the world" after the title of one of her movies, and a man 34 years her junior had attracted the attention of gossip magazines and some TV shows in Spain and Italy.
In a statement sent through the office of his lawyer Javier Saavedra, Rigau said he "will always love and respect" Lollobrigida, Spain's Hola magazine reported.
Rigau denounced what he said was "constant," "unfounded" and "unlawful" media interference in his private life, and said he planned legal action, according to Hola. His lawyers in Spain were unavailable for comment Wednesday, a national holiday.
Lollobrigida also said she planned legal action against media outlets in both countries, without specifying what action that might be, ANSA reported.
Lollobrigida began making movies in Italy just after the end of the Second World War. Her screen credits include "The World's Most Beautiful Woman," "Come September," "Trapeze," "Bread, Love and Dreams" and "Never So Few." In recent years, she has returned to art, first with photography and then with sculpture.
from http://www.brooksbulletin.com/news/entertainment.asp?itemid=58955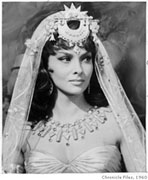 Gina Lollobrigida sculpts life in art
October 29, 2006
John Stanley, San Francisco Chronicle
In Fanfan la Tulipe, a 1952 parody of swashbucklers, Gina... Gina Lollobrigida in Solomon and Sheba Howard Hughes, movie producer and an ardent admirer. How does a one-time movie sex symbol, now 79, keep busy once the glamour days are over and she no longer wants to make movies?
In the case of Gina Lollobrigida -- once declared "The Most Beautiful Woman in the World" after the title of a 1956 Italian film in which she starred -- it is late in the afternoon in her Rome studio and she is wrapping up another day of intense sculpting. "I am a working woman," she said in her blunt fashion, "and if I have to stand up for 24 hours to do the job, then I will stand. I don't have time for gymnastics. It is both mental and physical, sculpting. I start work at 6 a.m. and don't stop until there is not enough light. To express myself, that is my life. To be my own master. In sculpting, I do moments from my life. People I knew, things I have seen. It is all part of me."
The Lollobrigida voice with its Italian edge was always pleasant but fiery as she described her success in Parisian and Moscow galleries and the many accolades and awards her 60-plus pieces have brought her in recent years. But movies kept filtering into the conversation, for Lollobrigida was being asked about the rerelease of her 1952 movie "Fanfan la Tulipe." (She's also been in the news recently for announcing plans to marry a man 34 years younger than she.)
"It is an important film to discuss," she said, "because when it came out I did not think I would be a lasting actress. I had already turned down the idea of being an operatic soprano because it is so demanding. I was thinking of opening an art school. Then a wonderful thing happened. The French pointed out that 'lollo' meant 'big breast' and the producers considered changing my name (she was born Luigina Lollobrigida). But the credits had been made and I stayed who I was. So in France, the reaction to me was so big they changed the posters to emphasize ('lollo'). France gave me my success. Then other success came from all over the world. Why? I was natural. I didn't care about publicity. I never had a press agent."
"Fanfan la Tulipe," a satirical takeoff on Hollywood swashbuckling epics with an amusing anti-war narration, is set during the Seven Years' War (1756-1763) and co-stars Lollobrigida. She plays a Gypsy woman, Adeline, with an independent spirit and strong will (trademarks of many of her screen portrayals). French star Gerard Philipe gallops like a comedic Errol Flynn through this story as a brash peasant-turned-adventurer. Philipe, who would die only seven years later of liver cancer at age 38, fights his way through one amusing combat after the other, motivated by the dream of marrying the daughter of King Louis XV. Of course, his true love is Lollobrigida, always depicted wearing a low-cut blouse.
"Soon after the fanfare of 'Fanfan,' " Lollobrigida said, "I was known all over the world. And I made 'Beat the Devil' with John Huston, a director who allowed me to play the scene as I wanted, then he would step in to make his changes. I learned much from him. (David O.) Selznick was there with his wife, Jennifer (Jones), and jealousy reigned. He felt I was too beautiful. He wanted to give me money and send me away. Bogart, ah, such divine fun. My English was not very good and he pretended to be angry at me, but he was only joking."
Are the stories about Howard Hughes true? "Ah, you know about Howard. In 1950, I was invited to come to Hollywood to meet him. He fell in love with me and became a persistent figure in my life. He was in love with me for 13 years. He never gave up. He would send lawyers to wherever I was with offers of marriage. I did sign a contract with him, but then my husband (Milko Skofic, a Yugoslavian doctor whom she divorced in 1971 after 22 years of marriage) took me away from Hollywood."
When Lollobrigida was playing Lola the aerialist in "Trapeze" in 1956, Hughes reappeared, "threatening to sue (United Artists), so the studio paid him much money and that allowed me to work with Burt Lancaster and Tony Curtis. Our director, Sir Carol Reed, was troubled because he was making a movie in Cinemascope, so he devised a way to break the frame into left and right, bringing the right side closer to the camera. In this way, he felt he was telling two stories.
"I am sorry to say he would not allow me to do the more dangerous aerial work and a double was used. I always prefer to do things myself and fought with him, but lost. Still, it is a masterpiece among my movies. So is 'Bread, Love and Dreams' (1953), in which I played a character (nicknamed Frisky) opposite Vittorio De Sica."
Hughes was back to haunt her again in 1959 when she made "Never So Few" with Frank Sinatra, and again a payoff was made to MGM to allow her to work. The same happened with "Go Naked in the World" two years later. Always, she added, Howard would get his money if not the woman of his dreams.
"I may have satisfied the public with some of these movies," she said, "but I didn't satisfy myself. I could have done so much more than directors wanted. I often said no to a movie offer because I really didn't care about so many of these movies. You can't control your career in film because so much depends on director, producer, cutter, story, character."
Thus it was in 1971 that, despite a successful movie career, she decided to give up acting to become a professional photographer. "Being an artist 100 percent of the time was more satisfaction. Now I was watching the people and the world. And knowing the world, and knowing what was going on in the world, it was fascinating for me. I grew so much, traveling to so many places." She has had two books of her photographs published and has been exhibited in many countries.
Among her subjects was Paul Newman: "I wanted to film him naked, but the agent said no, so he wore a pair of shorts. He jumped into a freezing river for me. I know when to make the click. You must be ready before the picture happens. It is the same with painting or sculpting. God gave me the possibility. I'm glad I was an actress in my early years and that I waited to be a photographer and sculptor. One needs maturity and experience. With the maturity I now have, I think I have succeeded to give the best of me."
She grew up in the mountain village of Subiaco, Italy. "It was my mother who gave me so many talents." Gina's father was creative too -- a maker of furniture. But it was Mamma "who taught me about the beauty of women. To always be serious about my work. For example, I was Esmeralda in 'Hunchback of Notre Dame' with Anthony Quinn. Others have tried to copy it, but Esmeralda is me. I played her the best my heart would allow." Does she miss making movies at all? "I don't have time in my life to be annoyed about such little things. I cannot live without doing more important things. I look to new experiences. I want to leave much behind. Did you hear there is a new French word, lollobrigidienne, a landscape or garden that curves away. That is something to leave behind, is it not?"
And did she ever enjoy being a sex symbol? "I let the people dream when they see my movies. What I do is real, not fake. Some say I am the sexiest. They can think what they like. But inside I am another person than what they see on the screen. I'm on the other side. I'm not influenced by what others think. I am detached from the image you see on the screen. Some say I give them the best moments of their lives. They think I am still as young as I appear on the screen images. They confuse the real person and the movie character. I don't make this mistake. I know who and how I am."
One final question. If Howard Hughes loved her for 13 years, was she ever in love with Howard Hughes? A pause, then laughter. "I cannot tell you that. You see, you will have to read my story after I have written it." And her laughter continued for some time. Fanfan la Tulipe (not rated) opens Friday at the Opera Plaza.
from http://www.sfgate.com/cgi-bin/article.cgi?f=/c/a/2006/10/29/PKG1KLSC9O1.DTL&hw=lollobrigida&sn=001&sc=1000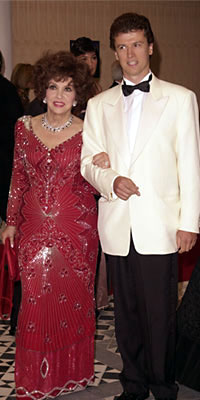 Lollobrigida, 79, to wed 45-year-old beau
CBC Arts, October 20, 2006
Gina Lollobrigida, who played "the most beautiful woman in the world" in the film of the same name, is getting remarried at 79 to a man who is more than three decades her junior. Lollobrigida, called "La Lollo" in Italy, said she and her husband-to-be, Javier Rigau y Rafols, have known each other for 22 years. She met the Spanish property entrepreneur, now 45, at a party in Monte Carlo.
"There is no age limit for love," she said from Rome. "I am so happy, I want the whole world to know. Women of the world, don't worry about your wrinkles - love is the best rejuvenating cure there is." The couple is to marry in New York before the end of the year. "I have always had a weakness for younger men because they are generous and have no complexes," she said in an interview with Spain's Hola! magazine.
Lollobrigida embodied the prototype of Italian beauty with movies such as Come September, Trapeze, The Hunchback of Notre Dame, Love and Dreams and Never So Few. She has played opposite some of the biggest names in Hollywood, including Humphrey Bogart, Yul Brynner, Frank Sinatra, Sean Connery, Burt Lancaster and Tony Curtis.
from http://www.cbc.ca/arts/film/story/2006/10/20/lollo-remarries.html

Lawmakers in Catfight Over 'Sex Kitten'
May 6, 2004
from http://news.yahoo.com/news?tmpl=story&u=/nm/20040506/od_nm/odd_canada_lollobrigida_dc_1
OTTAWA (Reuters) - Debate in Canada's parliament degenerated into shouts and catcalls on Wednesday when an opposition legislator committed what others saw as the sin of mispronouncing an Italian movie star's name.
The disturbance erupted when Jason Kenney of the Conservatives claimed that a former government minister had been "rubbing shoulders with Italian sex kitten Gina Lollobreegeeda" -- whose name is in fact Gina Lollobrigida.
"It's Gina Lollobrigida, idiot!" bellowed Human Resources Minister Joe Volpe.
Speaking afterward, Volpe made an apology of his own. "I'm sorry I called him an idiot. I should have referred to him as an imbecile," he told reporters.
Lollobrigida, nicknamed "La Lollo," appearing in dozens of movies including "Trapeze" and "Beat the Devil."
Wedsite editor's Note: Even if you incorrectly say Lollobrigida, everyone will know you are talking about the most beautiful and glamourous actress.
Expo of Lazio's Culture, New York
April 6-9, 2004
from http://biz.yahoo.com/prnews/040329/nym178_1.html
NEW YORK, March 29 /PRNewswire/ -- The Region of Lazio (Rome) presents its art, culture, food, wine, design, tourism, film, science and technology in New York City April 6-9, 2004 during an expo at the Puck Building (295 Lafayette Street). The President of Lazio Francesco Storace will introduce the event's program at press conference at the United Nations Building on April 5, 2004 at 5:30pm and officially open the exposition at the Puck Building on April 6 at 11am. Celebrated movie star Gina Lollobrigida will attend to represent her native Lazio. During the expo, companies and organizations from Lazio will display their products and offer tastings. Free admission for the public: April 6, 11:30am - 7pm April 7 through 9, 10am - 7pm.
Venice Film Fest Blind to Lollobrigida's Allures (click here for more)
August 27, 2003. Photo by Sergei Karpukhin/Reuters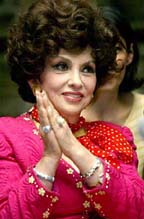 VENICE, Italy (Reuters) - Gina Lollobrigida, the sultry Italian diva whose 1950s and 60s movies made her an international star, says the Venice Film Festival might not recognize her contribution to cinema until it's too late.
But the former fine arts student has better things to do anyway. She was in town this week for a small exhibition of some of her sculptures at the Excelsior hotel on the Lido.
Lollobrigida, once described as the most beautiful woman in the world, eventually abandoned the silver screen to take up photography and sculpting.
Would she consider returning?
"If there were a smart script with an intelligent director I wouldn't have the courage to say no."

Tempo Italiano to feature "Come September"
Saturday July 26 at Tempo Italiano in Easton, PA.
The Holy Cross Society and am1400 West radio is presenting this film as part of a fundraiser. The evening will begin with an Italian buffet with the showing of "Come September" after. This event will take place at the Holy Cross Park pavilion right off of Exit 75 of Route 78 in Easton. Call either (610) 252-5578 or (610) 559-1706, or see http://TempoItaliano.net (info from Italian Tribune newspaper. webpage editor)

Come September has Rock Hudson, a wealthy tycoon, gets an unexpected shock when he arrives at his Italian villa and finds it occupied by a busload of young women, and he cannot get alone with his girlfriend played by Gina Lollobrigida. Also stars Sandra Dee, Bobby Darin (who also wrote the theme song for the movie and the song Multiplication), and Walter Slezak.
Lollobrigida Exhibit Opens at Pushkin
The Moscow Times, June 24, 2003
http://www.themoscowtimes.com/stories/2003/06/24/016.html
Excerpts from above article: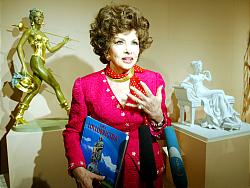 Gina Lollobrigida opens the first exhibition of her sculptures at the Pushkin Museum of Fine Arts in Moscow.
A former art student and model, Lollobrigida began making movies in Italy just after the end of World War II but returned to art, first with photography and then sculpture. She said her sculptures were heavily influenced by her life in film.
"My cinema — the '50s, '60s — is different from the cinema today, so I thought that it would not be bad to show that kind of cinema where we could dream," Lollobrigida told reporters. Gina said she had wanted Moscow to be the first showplace for her works. After Moscow, Lollobrigida's exhibit travels to Venice and Paris.

Lollobrigida back in Cannes (click here for more)
Utusan Malaysia Online, Malaysia - May 14, 2003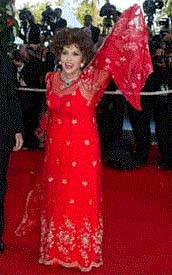 CANNES (France) May 14 - Gina Lollobrigida returned to the Cannes film festival in May for the premiere of a 2003 remake of the film "Fanfan la Tulipe" that propelled her to stardom more than half a century ago.

---
Return to the Gina Lollobrigida Page
Feedback is desired (suggestions, comments, errors, gripes, whatever) Michael Wright, mfwright @ batnet.com