A Dream Come True!
by Eugene Kopczynski
originally published in Voice of Motorola, August 15, 1969

Augusta — Once again Motorola engineers have proven the impossible can be done!

They've built a two-way radio the size of a pack of cigarettes and called it the HT-100 model "Handie-Talkie" two-way radio.

They've also cut down the HT-200 "Handie-Talkie" two-way radio to one-half its predecessor's size.

This duo "dream come true" is the pride and joy of the Motorolans on the Portable Products team and Marty Cooper, director of product operations. The dream first began to take shape back in 1967 when Dave Michalak, manager of "Handie-Talkie" marketing, suggested that such a unit would substantially enhance our position in the market place. Thanks to the progress in integrated circuits, smaller resistors, transistors and circuit boards, etc., it was decided that there was a chance Motorola's engineering department could come up with a "Handie-Talkie" two-way radio half the size, or less, than the portable two-way radios then being built.

Marty Cooper himself was sure that it could be done, and the project was undertaken. He assigned Bill Cole, manager of "Handie Talkie" products engineering, and his staff, to go to work on this project and selected the men needed to work full time on this new line, which would change the entire portable two-way radio market.

Working with Bill Cole on the electrical end of the new unit was Len Bennett, section manager, and eight other top-notch electrical engineers. Next came Dom Errichiello, chief mechanical engineer, and Tom Hutchinson, mechanical engineer, who both worked on the body design of the unit. Responsible to them were many other mechanical engineers who worked on the housing design and other mechanical parts.

During the many months of putting together the two models, a variety of engineers worked on the project. They handled all the different phases needed to make this dream come true.

Len Bennett described some of the problems that were faced and how they were overcome.

"Perhaps the main problem we faced was designing, the small printed circuit board to hold all the parts needed," he said. "Once we had the board designed we then had the problem of finding a company which would make it for us."

"The circuit board is not new to the world, but the design of this type of board was a real challenge for our mechanical engineering department, and with it they really proved themselves."

"We also had to develop a new line of transistors to meet our needs. This was done with the help of Motorola engineers at our Phoenix facility. To add to this, a special RF transmitter was designed for the HT-220 model. To add further to the special problems we faced, we also needed to design new batteries for the HT-100 and HT-220 units."

"In the case of the HT-100, the battery was built right into the back cover of the case."

Concerning the work that went into the housing and case designing, Dom Errichiello and Tom Hutchinson said it took them and their staff many months of effort to design the housings and cases for the new HT units.

"Into the designs of the housings and covers went new lightweight zinc alloys and high impact plastics," said Dom. "The use of these high impact plastics and zinc alloys is one of the main reasons the new HTs will be the talk of the communications field. The first of these new units built was sent to New York City for its Police Department to test out in service. The reaction by the New York Police was so great that they immediately ordered 630 of the HT-220 units. When the New York Police Department received their initial units, they were so pleased with the units that they placed an order for 2,200 more of these marvels of the Motorola Communications Division."

HT-220 Development Team Photo Gallery
They helped make dream come true!
(Editors Note: These images were scanned from a photocopy)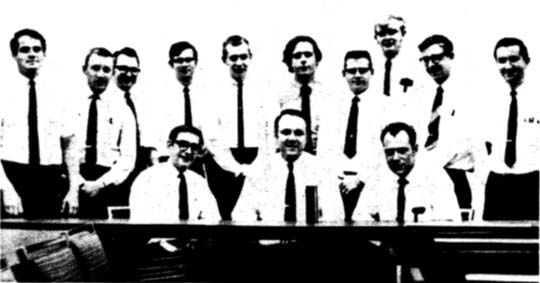 (seated L to R) Dave Michalak, Bill Cole and Len Bennett. (standing) Joe Bartelme, Dick Lunquist, Tony Tutins, Larry Fiery, Jerry Zacker, Bill Jeffrey, Randall West, Ed Clark, Lyn Peterson and Ed Doyle. (an HT220 is centered in front of Bill Cole).

(seated L to R) Portable Products' current model HT-200 "Handie-Talkie" two-way radio and new models HT-220 and HT-100 "Handie-Talkie" radios are displayed by (L to R) Marty Cooper, Bill Cole, engineering; and Len Bennett.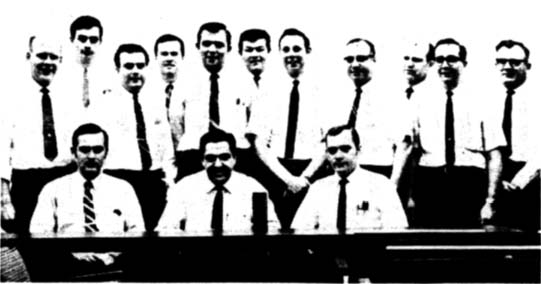 (seated, L to R) Bob Blesch, Dom Erriciiiello and Tom Hutchinson. (Standing, L to R) Elmer Swanson, Dick Ifribar, Bob Colombani, Mike McMahon, Chuck Kohut, Frank Grube, Win Schilling, John Fiore, Mike Wilczynski, Paul Gilbert, and Walt Franzcek. Displayed on table of each group is new model HT-220 "Handie-Talkie" two-way radio.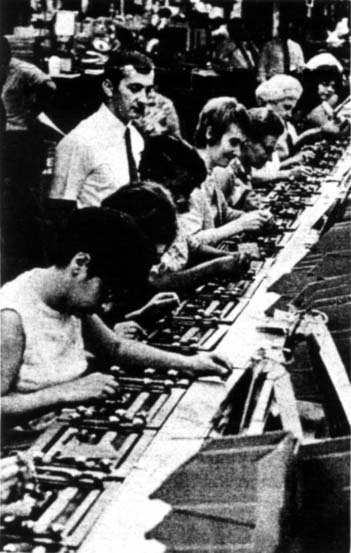 Inspecting the master insertion line for the HT-220 "Handie-Talkie" two-way radio is Foreman Marlin Wingard.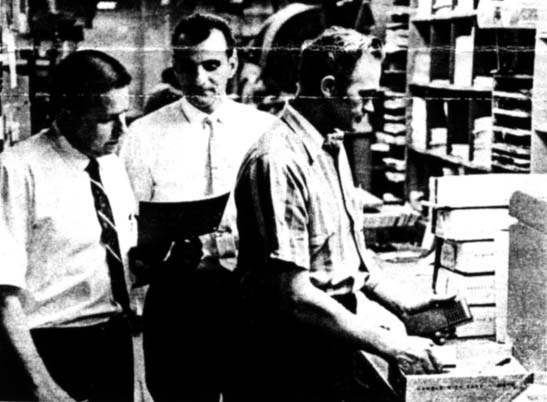 Shown with (R) Gunther Walther, group leader, packing, are (L to R) Nick Guerrieri, packing supervisor, and Casper Ricupa, foreman of delivery, packing and shipping.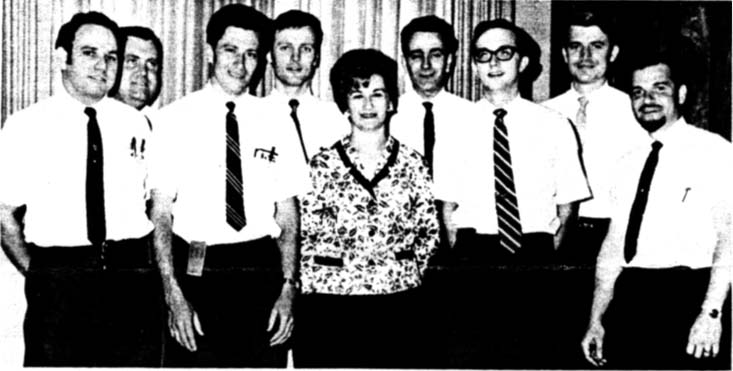 Helping to make possible the HT-100 and HT-220 "Handie-Talkie" two-way radios were (L to R) Doug Sam, manufacturing engineering; Tom Morris, tooling; Wayne Roethier and Larry Manning, manufacturing engineering; Mary Ginter, process engineering; Rodney Boum, manufacturing engineering group leader; Tony Knapp, process engineering; Jerry Huinker, process engineering group leader; and Frank Freyre, tooling.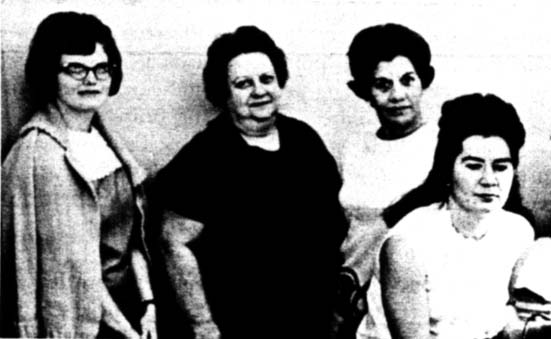 Prototype assemblers (L to R) Janice Arismendi, Grace Holmes, Rose Baumann and Nancy Barron.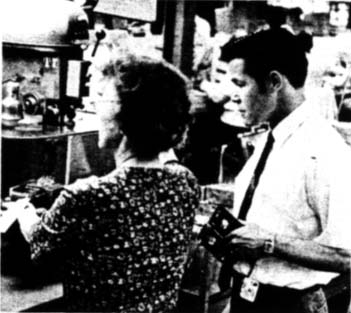 Shown at high speed lead cutter for the HT-220 "Handie-Talkie" two-way radio are (L to R) Laverne Carroll, operator, and Bruce Evangelista, assistant foreman.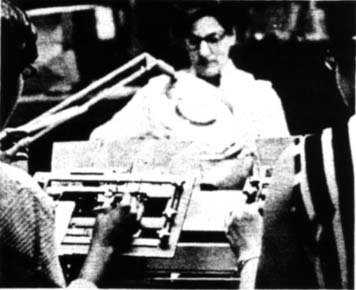 Inserting parts on HT-220 "Handie-Talkie" two-way radios are (L to R, backs to camera) Beverly Higgins and Sue Poviliatis, inserters. Looking through glass is (C) Julia Serbin, inspector.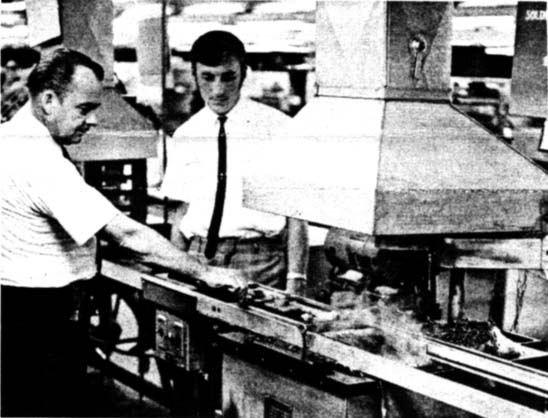 Wave soldering of the HT-220 "Handie-Talkie" two-way radio is examined by (L to R) Larry Pospeck, manufacturing manager, and Ken Kwilosz, supervisor.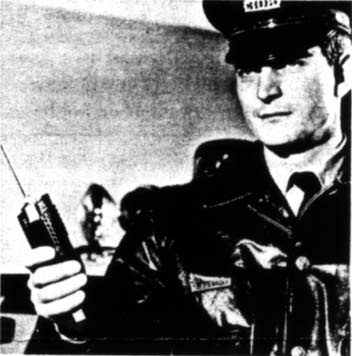 A Police Officer poses with HT-220 "Handie-Talkie" two-way radio. The first of these new units built was sent to New York City for its Police Department to test out in service.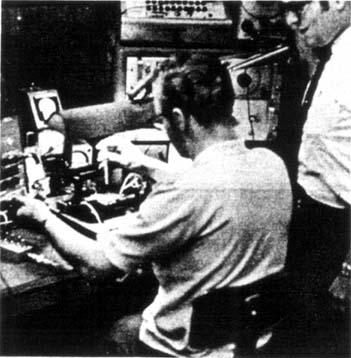 Watching as (seated) Ten Wandland, technician, tests the HT-220 model "Handie-Talkie" two-way radio in systems test booth is Foreman Jerry Blanton.
---
Feedback is desired (suggestions, comments, errors, gripes, whatever) Michael Wright, mfwright@batnet.com
---
Back to the HT-220 Page