The Connie Francis Story
http://www.mfwright.com/conniemain.html
---
---
Last update: 5/22/01
Photographs shown were provided by the Connie Francis Fan Club and also from the collection of this webpage editor. Considerable material below from various articles provided by Mike Giambra representing the CF Fan Club in the 1980s and 1990s.
---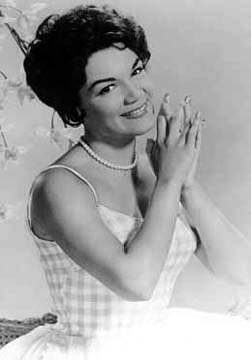 Connie Francis is the best female vocalist of all time. She was the top female vocalist of the late 50s and early 60s, amassing records sales equal to and surpass those of many of her male contemporaries. Connie Francis branched into big band, country, ethnic, and many many other styles of music. She has the knack of wrenching the emotions with her powerhouse voice. Connie's music, transcending any and all boundaries, is capable of taming the beast, soothing the wounded heart and lifting the fallen spirit. She uses her multifaceted talents to successfully perform concerts each year.
Concetta Rosemarie Franconero was born on a December 12 in Newark, New Jersey. Connie started performing as a child playing an accordion. Her ability to play an accordion was key for her being accepted on Startime, a New York City television show that featured talented children singers and performers. The show had no one else to play an accordion. After three weeks, producer George Scheck (and later her manager) told her to dump the accordion and concentrate on singing. Connie performed on Startime weekly for four years. After Startime, Connie made demo records for MGM. George Scheck later shuddered (as her manager and with Connie selling millions of records) that he almost at first didn't accept her..
Her aunt Marie was the first to mention how beautiful Connie's voice was and later Connie's fourth grade teacher, Ida Charles, said she never heard anyone sing so well and it was both of them that encouraged Connie to become a singer. Connie later provided an expenses-paid trip to Ida Charles to attend one of her shows.
However, her father's dream was not for his daughter to become a star but for Connie to become independent of men with her own accordion school of music. "You will never have to take orders from any man with your own accordion school," he said. Her mother added, "and become a spinster like Ingrid Bergman in The Bells of St. Mary, a shriveled-up old prune!" Connie laughs in her 1996 interview with WPEN. Connie never missed the accordion; no more aching back, and no more fingernails to break. She threw a party when her accordion was ruined in a basement flood.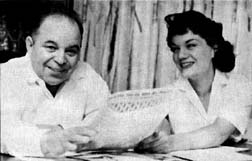 Her dad, George Franconero, a roofing contractor in Newark, NJ, worked tirelessly on behalf of her career, but he was a typical overprotective Italian father who constantly intervened in her personal life. However, Connie's father was a musical genius, had a keen ear for music and knew what songs would work best for his daughter. George suggested [or told her to] that Connie sing Who's Sorry Now. Connie had recently accepted a premed scholarship at New York University and she was contemplating about bagging the career as a singer. Connie was reluctant to sing the early 20th Century song to say the least, "The kids will laugh me off American Bandstand." and, "When was that written?" Click here for image of Who's Sorry Now sheet music from 1923. [when the Pentium had vacuum tubes].
Click here for image of Who's Sorry Now sheet music featuring Connie. Connie Francis' key to her early success were a couple of things. She had Dick Clark of American Bandstand who was a tremendous influence for her. If Dick played a record, then it was a hit. He introduced her song Who's Sorry Now on January 1, 1958 saying, "Here is a new girl singer that is heading straight for the number one spot." The song climbed over the million mark in six months after its release. She also had talented people like Neil Sedaka and Howard Greenfield who wrote hit after hit for her. Many of these rock-n-roll songs made the top ten list and made her the most played on the radio in the early 1960s. She described it as a wonderful marriage for singer and songwriter. But she wouldn't have made if it wasn't for Dick Clark.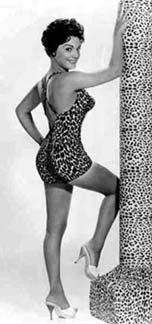 Connie's last name "Francis" was the idea of Arthur Godfrey, host of Startime (she never legally changed her name). Arthur was having trouble pronouncing Connie's real last name "Franconero." So he decided to give her an "easy to pronounce Irish name, Francis." Connie objected, "Connie Francis? My father will kill me!" Arthur did managed to pronounce her last name correctly on the show. "Francis" eventually became her well-known stage name.
Before the years of American Bandstand, Connie Francis signed on with MGM Records in 1955 after being rejected by all the other major record companies. Her first recording, Freddy was accepted by MGM because the president of MGM had a son named Freddy, and he used this recording as a birthday gift for his son. Beyond that it was not successful and she suffered two more years of bombs before the 1923 ballad Who's Sorry Now shot up the charts in 1958. Connie was very fortunate that MGM stayed with her during her first two years of poor record sales. Traditionally, if an artist's first record isn't a hit, they're out.
Starting in the late 1950s, this period became a very busy time for Connie Francis. She released numerous rock-n-roll hits, Stupid Cupid, Lipstick on Your Collar, — the twangy Everybody's Somebody's Fool and My Heart Has a Mind of Its Own, and Don't Break the Heart That Loves You which was Francis' last pop chart-topper in 1962. She also starred in four films beginning with Where The Boys Are. Connie was top billing for several television shows and was busier than a entrepreneur of a Silicon Valley startup. In a 1961 interview with Newsweek, she said, "You know, if someone told me to take three days, to just do anything I wanted, I wouldn't know what to do." Click here for film clips of Where The Boys Are.
[Candace Rich gives a great review of Connie's rock-n-roll contribution. Tom Simon at his web site says that Connie Francis songs followed one of two formulas: either it was a slickly produced catchy song with a rock-n-roll beat or a song that had been popular earlier in the Twentieth Century.]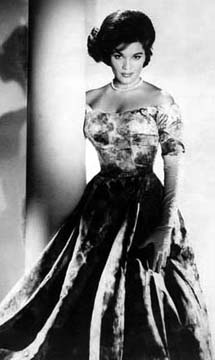 Connie Francis is well-known for her teeny boppy songs of sobbing tales of woe, but she also received critical acclaim from the established music business in the late 50s and early 60s, which at the time regarded rock-n-roll as a untalented fad that will soon pass (quite similar to the sweeping arguments about MS-DOS in the 1980s). Serious music critics praised her talents and appreciated her wide range of singing aptitudes in many different languages. Her Italian and Jewish albums transformed Connie from a teenage idol to a top mature performer at places such as the Copacabana, Carnegie Hall, London's Palladium, Paris' Olympia Theater and other leading night spots around the world [known as "crossover" in the music business]. Connie was quite popular with ethnic and candlelight music, Malaguena, Havah Nagilah, More, Will You Still Be Mine, and He's Looking At Me. There were music critics that at first didn't take kindly to Connie but backed off after realizing her versatility with sophisticated songs, Swing Era Classics and Gershwin standards.
Connie's ability to sing in different languages is best described by Gabe Temesvari when interviewed by Tricia Perham of The Recorder. "She interprets her songs with such depth of emotion that you don't even have to know the language, you just feel it," he insists, as he plays the Japanese version of, "Where The Boys Are." "One of my daughters brought home a Japanese friend," Temesvari adds, "and she said Connie Francis sounded so good in Japanese she couldn't believe she was American."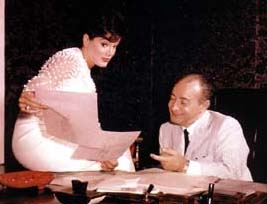 Connie Francis has an affinity for languages and has sang many of her well-known songs and standards in other languages. These include "Die Liebe ist ein seltsames Spiel" "Paradiso," "Schöner fremder Mann," "Sueno de Amor," "Donde Hay Chicos," "Jamais," and "Danke Schoen." Naturally because of her Italian heritage, Connie has released several Italian favorites. Because of her international popularity, Connie has been on the charts every year someplace in the world — even after 1969 when she made her last 100 chart topper in the United States.
George Scheck, Connie's manager (seen in this photo on left), was an important part of her career by arranging the business matters (licenses and translators) for many of Connie's foreign language recordings.
In addition to Connie's numerous albums of teenager and adult songs, she also released two albums of children's songs.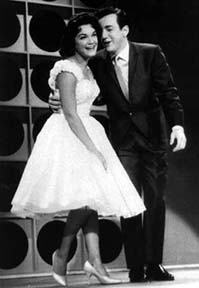 Connie has been a guest on numerous television shows such as the Andy Williams, Perry Como, Mike Douglas, Jack Benny, and the Ed Sullivan Show to name a few. These shows have also been major contributors to Connie's career. She received major recognition as a mature performer singing the classic Italian song Mama on the Perry Como show. Ed Sullivan admired Connie tremendously and invited her to his show numerous times to let her sing sophisticated standards.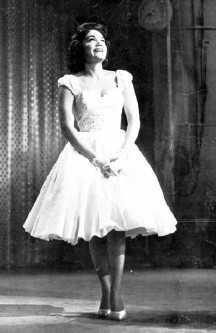 Connie Francis went on to star in three more motion pictures, Follow The Boys, Looking For Love (Click here for film clips of Looking For Love), and When The Boys Meet The Girls, and also singing the title songs. Although at the time she said her acting skills were as bad as to sink the entire 6th Fleet of the US Navy, her fans still loved her movies. She also has a long history of being the first to record, but then not release, titles that went on to become smash hits for other artists, or the inspiration for lyrics , or the composer's first choice to interpret songs. Some of these titles include Somewhere My Love, Strangers In The Night, Angel In The Morning, and When Will The Good Apples Fall. However, Connie's voice has made it to other movies such as the soothing theme song, Senza Fine featured in the Jimmy Stewart movie, The Flight Of The Phoenix. She also sang voice-overs in movies for actresses that could not sing.
The year 1964 was a major upset for many American singers. Record sales, and careers, for many first generation of rock artists more or less ended abruptly after the British Invasion beginning with The Beatles. Connie was already an established big band and "standards" performer and even when her reign as a rock-n-roll chart-topper ended, she still continued selling records and performing as a leading entertainer. Throughout the sixties Connie released many albums including International Favorites, Bacharach and David songs (The Look Of Love, I Say A Little Prayer), songs of Les Reed (It's Not Unusual, The Last Waltz, Les Bicyclettes De Belsize, Three Good Reasons), Kaemprert, Last and Mancini songs. She also released a album of Hawaiian songs.
During Connie's career she has recorded more than 70 LPs (U.S.), three motion picture soundtrack albums, dance music, ethnic favorites, Broadway hits, country-western, and many, many other records. In Europe she is much more popular with over 160 CDs released. There may be much more and quoted estimates cannot be substantiated because of the enormous number of CDs produced including a slew of bootlegs. And as of this moment more and more are being produced and released.
There has been for some time in the United States that Connie Francis music was rarer than plutonium. Her early rock-n-roll hits were always re-stocked on the shelves, but recently many new CDs of Connie's other styles of music have been released. Because she sold so many records, used record stores are also an excellent resource find her albums, especially the out-of-print albums that include the songs and styles previously mentioned. [editors note: See Connie Francis CD Reviews. for mail order places to get these new CDs.]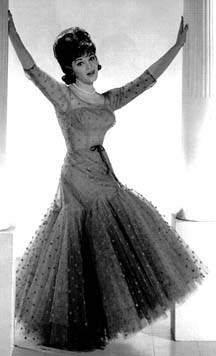 Not only is Connie Francis an extremely talented vocalist, she is also a visual treat. She is very beautiful and glamorous with the likeness of Gina Lollobrigida. Connie fashions herself in pretty dresses, stylish makeup, and lovely hair. Many other female vocalists wear combat boots and drab clothes, and thus have to rely on a lot of smoke and mirrors with flashing lights and laser beams for visual effects during their concerts. Connie Francis doesn't need a high tech stage because she is the flash and dazzle.
Connie has proven she can deliver without flash and dazzle. During a 1995 concert the theater lost power for several minutes, and illuminated only by the soft glow of the emergency exit signs, Connie continued to sing. She did stop after each song and humorously inquire why she was in the dark. When the power was out she was in the middle of her rock-n-roll hits medley, and when the power came back on, the film that was being shown on the screen behind her was clearly out of synch. Connie leaned on to the piano and said to her conductor, Doug Walters, "Why don't we just resume the show by telling the people that I was discovered in South Florida, OK?" She picked the show back up flawlessly and her audience loved it.
Connie Francis is known to some as a country singer. Saying that Connie as a country singer is both true and false. Connie is best described as a pop singer, but that never stopped her from branching into other forms of music. At first she didn't like country music. When Connie was six, her father was a country fanatic even though he was like a "right off the boat" Italian. The music drove Connie crazy but her father said, "Those countryfolk aren't stupid" (he predicted country would become as big as pop music). When Connie's career in music took off, Phil and Don Everly said to her, "Oh we've got to get your mind right girl" and they spent a day listening to country music—good country music. Connie recalls, "They made me a believer in one day." She made three albums including one with Hank Williams, Jr. Today, Connie says there are millions of people, including herself, who cannot live without a country tune. In early 1998, Connie was featured on the Nashville Network's Statler Brothers Show.
It's hard to underestimate the talents of this Italian girl who grew up in a Jewish neighborhood in New Jersey. Connie Francis interpretation of music is meticulous, enabling her to become one of the most popular international entertainers of this century.
The years have not been kind to Connie Francis. Following a performance in Westbury, New York in November, 1974, Connie was the victim of a violent crime in her hotel room, which devastated her. During her difficult recovery, Connie filed a lawsuit against the hotel for lack of adequate security (hotel and motel security with deadbolts and viewing ports were virtually non-existent prior to 1974). Her case won a reform in motel and hotel security. Deadbolts, viewing ports, and better lighting are now common in hotels which has prevented many assaults and saved many lives.
Connie left the entertainment business entirely for a while in the 1970s when she lost her voice. She did release an album of her previous hits in 1977 and returned to Westbury to perform in 1981. Her brother was killed in 1981. During the 1980s Connie Francis' singing career had several interruptions, where she was diagnosed as being manic-depressive. In spite of her difficulties, Connie has continued on with her career with many successful concerts.

During the 1980s, she also advertised a mailorder collection of her songs on television (Yes, that was the gorgeous girl with the pretty poofy hair).
Connie's most rewarding experiences have been her charitable activities. She was the 1969 Chairman of the Overseas Combined Charities which includes CARE, UNICEF, and USO. Connie sang for the troops in the Vietnam War and received a welcome she will never forget.
Numerous CDs have recently been released, including works Connie is most proud of, and songs making their debut on some of these CDs. These songs by Miss Francis and others not commonly found include Stardust, Call Me Irresponsible, Strangers In The Night, Somewhere My Love, and Moon River.
Several new issues of Connie Francis CDs have been introduced to the market. The 1990s Italian Collections is a magnificent re-mastering of timeless Italian songs that have been selected by Connie herself. On Guard is a recent CD of live recordings Connie performed for the National Guard sponsored radio programs in the early 1960s. Her vocals to Mitchell Ayres Orchestra and Bob Crosby & The Bobcats are some of Connie's preferences. The liner notes of On Guard say, "She is typically regarded today as a rock 'n' roller." "Her contribution as a singer of songs from the wider spectrum of popular music should never be overlooked."
The year 1996 had a number of major album releases. The third concert recording of Connie's career was "Connie Francis, Live at Trump's Castle" produced by Dick Clark's record label, CLICK Records. She also recorded Nashville a collection of Buddy Holly songs. The album Connie is most proud of, re-released in September 1996 on CD, is the Swinging Connie Francis [Jazz songs of the 1930s]. This album includes songs such as Brother Can You Spare A Dime?, Maybe, Ace In The Hole, Just A Gigolo, and Ain't Misbehavin'.
Probably the biggest collection of Connie Francis songs released in the U.S. was Polydor/Chronicles four CD boxed set entitled, Souvenirs. The CD set also includes several of her recordings that bombed before her record-breaking, "Who's Sorry Now." [Connie is not thrilled with those songs in the collection.] The CD can be spotted with the advertisement tease: "When lipstick was for smearing, boyfriends were for stealing, and hairspray was sexy."
In late 1997 through 1999, Pendulum Entertainment Group released some of the original MGM Connie Francis albums on CD. Before this re-issue, some of these collections could only be obtained used from private individuals. See CD review Part 3 for more on these albums.
Connie Francis continues working the concert circuit as a top performer across the country [see Concerts]. The opportunity of attending a Connie Francis is truly an unforgettable experience. She sings a wide range of her big band, rock-n-roll, country, and ethnic favorites. Connie feels for her audience, "I try to do what I know will please the audiences What pleases me is unimportant. I didn't buy a ticket." Her band is absolutely fabulous, their choreography is right on cue and is as smooth as the astronauts on a Hubble Space Telescope repair mission. She remains elegant and beautiful, even when she cannot hit the notes like she used to, people see and hear the real Connie Francis, not a milli vanilli.
When Connie does have some free time, she enjoys watching movies, playing scrabble, writing, poetry, reading and shopping (she has a black belt in shopping).
A Connie Francis admirer commented about a recent concert he attended. When Connie sings Mama, it gives him goosebumps, it's his favorite Connie Francis song. Every year on Mother's Day, his family have a special party dedicated to their mom, with bouquet of flowers and Connie Francis singing Mama in the background. "It's so appropriate. No one can sing as good as Connie" he says. And this gentleman knows music.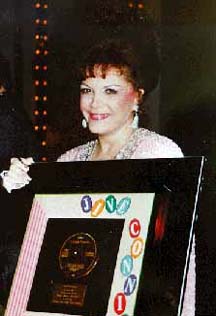 At a recent concert, a man in the audience shouts to Miss Francis, "Connie! I love you! Will you marry me?" She says, "Now he tells me. Well, where were you when I was marrying those stiffs?" [editors note: This was probably a staged event, but the words spoken by this man is precisely what every guy at the concert was thinking.]
As Connie reflects on the spectacular success of her career as well as the devastating tragedies of her life, she states, "I would like to be known not for the heights I have reached, but for the depths from which I have risen." And to her fans Connie says, "A big enormous Thank You for hanging in there."
Go Connie, Go
---
Return to The Connie Francis Page
Feedback is desired (suggestions, comments, errors, gripes, whatever) Michael Wright, mfwright@batnet.com